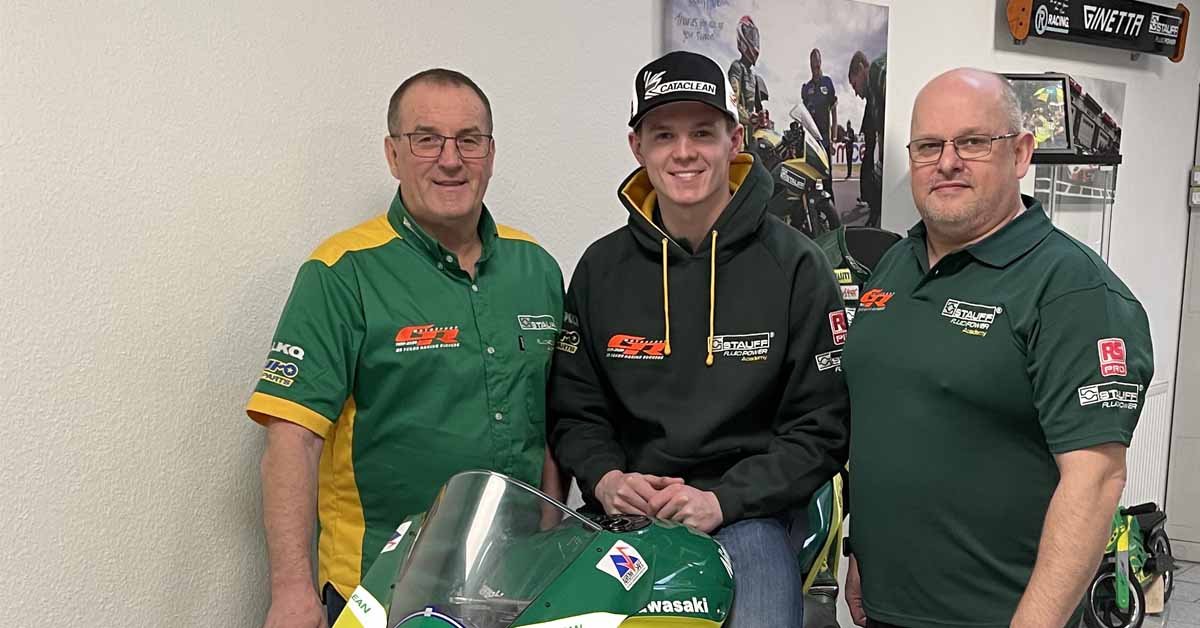 Francis fired up for Pirelli National Superstock title fight with STAUFF Fluid Power Kawasaki
Joe Francis will join former title-winners STAUFF Fluid Power Kawasaki in the 2022 Pirelli National Superstock Championship, signing for a return to GR Motosport after recent seasons in the Bennetts British Superbike Championship as STAUFF continue into its tenth year with the team.
The 24-year-old from Chester secured a best result of fifth place in the Superbike class at Donington Park last year and has previously been a race winner in the Supersport series.
Francis returns to the team to fly the flag for STAUFF Fluid Power Kawasaki, having last worked together in 2013 when they celebrated title winning success in the British Motostar Championship.
Francis said: "I am really looking forward to this season and a new challenge in the Superstock class. It is something I am excited about; my goal is to challenge for the championship title and I am really motivated for the season ahead.
"It is nice to be back with Brent and the crew, working with the same team members I had back in 2013 when we won a championship together, and now we want to make it two. I am confident that with the programme and team around me that we can make it happen. I can't wait to get going in a new class and I am thankful to Brent and all of my sponsors who have put me in this position for the 2022 season."
In further news, Cataclean join the team and also the Championship as the Official Fuel Additive Partner to promote their motorcycle product 'Cataclean Powershot Bike'.
Cataclean have been established for over 25 years and manufacture a market leading fuel and exhaust system cleaner which up until now has been primarily based around cars and light commercial vehicles. With these partnerships Cataclean are looking to replicate their existing reputation in cars over to motorcycles.
The Cataclean logo will feature on both Storm Stacey's Superbike and Francis' Superstock Kawasakis in addition to trackside branding as part of the partnership rights with BSB.
GR Motosport Team Owner Brent Gladwin commented: "It really is great to welcome Joe back to the Team! We had a tremendous last season together in 2013 when STAUFF first joined us, in a championship battle with current BSB champion Taz Mackenzie to take the Motostar title. Joe has gone on to develop his skills and get good results on the bigger bikes and I am putting back together his title-winning crew to looking forward to a successful season ahead.
"I am so really proud that STAUFF UK will continue into its tenth season as Title Sponsor of the Superstock team. Their continued support is invaluable, we all feel a part of the STAUFF family.
"Cataclean joining the team is also an exciting piece of news, we've seen their involvement in the BTCC along with the growth of their brand. They have a brilliant product range available in LKQ Euro Car Parts and other stockists throughout the world. We look forward to helping them gain traction in the motorcycle world and launch their motorcycle product. with added support from Kawasaki UK it gives a spring board into a great season."
John Morris, Managing Director, STAUFF UK Ltd said: "As we start our tenth season with GR Motosport we look forward to a brilliant year of racing. Since Joe Francis moved on from the team we've watched his progress and his successes, and look forward to him returning to challenge for the Superstock title. The new season will not only bring the annual fun and entertainment that surrounds BSB, but this year in particular we are looking forward to once again welcoming customers as our VIP guests to the venues. We have a team of STAUFF Brand Ambassadors in place to welcome them to experience the championship first hand."
William Jones, Cataclean's Sales Director, said: "BSB is the leading bike championship for racing enthusiasts and motorbike fans alike throughout the world, we're really excited to be involved with GR Motorsport for 2022 and we're eager to see what Joe will bring to the championship. Cataclean have supported Joe since 2015, and we're hoping his return to GR Motorsport will reignite the synergy for another winning season. This will be our first season as a BSB team sponsor and we're anticipating a great season of entertainment ahead and look forward to meeting all the BSB fans and guests at circuits.
Ross Burridge, Head of Kawasaki UK Racing Department said: "Having worked with Brent and his professional outfit for a number of seasons now, and seeing how the team have continued to develop across a multitude of classes, we are excited to see what they and Joe can achieve in 2022. It's always a tough class, but it's an important one for every Manufacturer, so we wish them the best of luck for the season ahead."