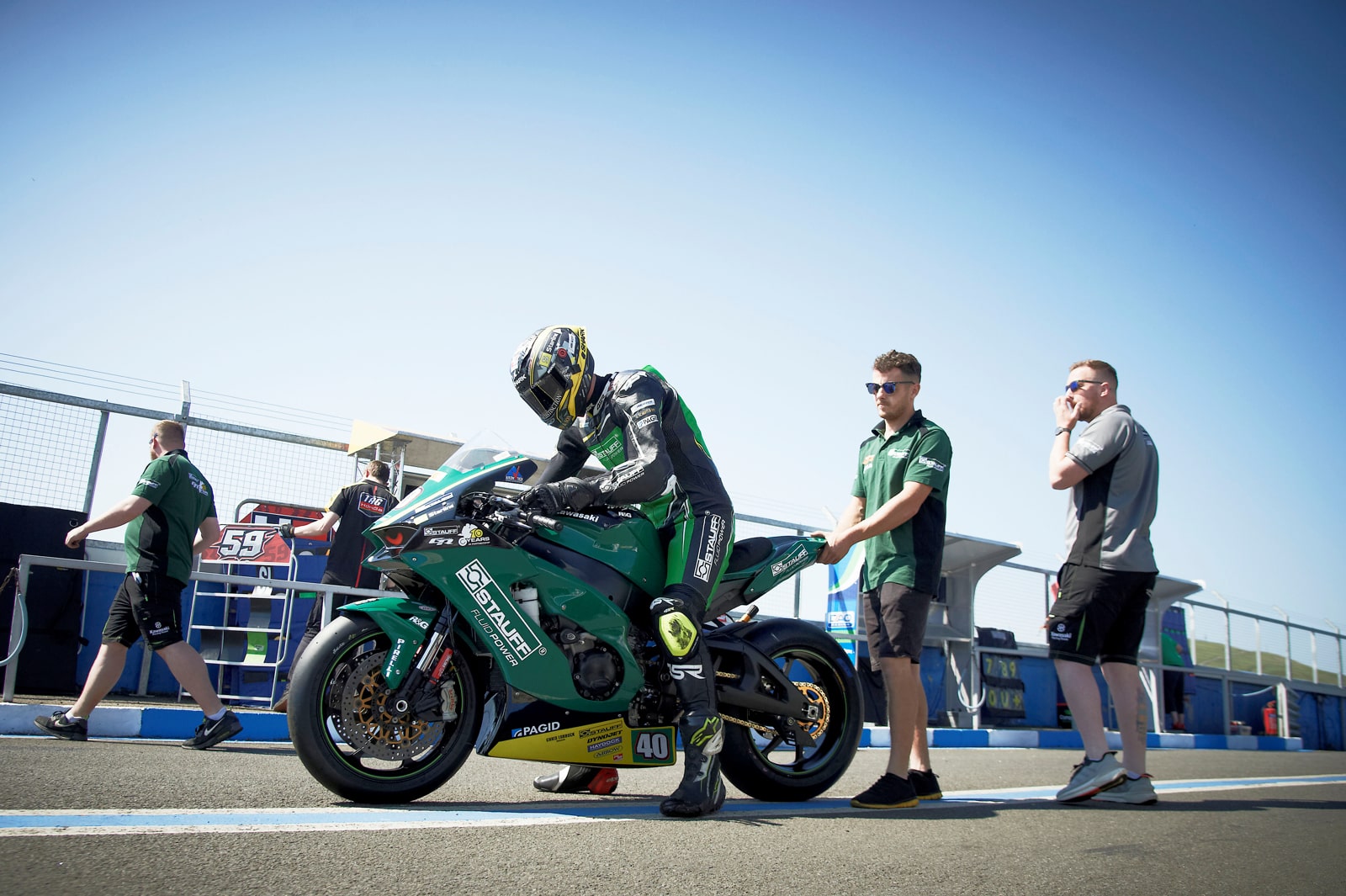 GR MOTOSPORT's BONNIE SCOTLAND
Our incredibly strong start to the 2023 season continued as did the stunning weather at Knockhill last weekend. The enthusiastic Scottish BSB supporter were treat to some fantastic racing and we were pleased to share the excitement with VIP's from our Superstock Title sponsor STAUFF UK.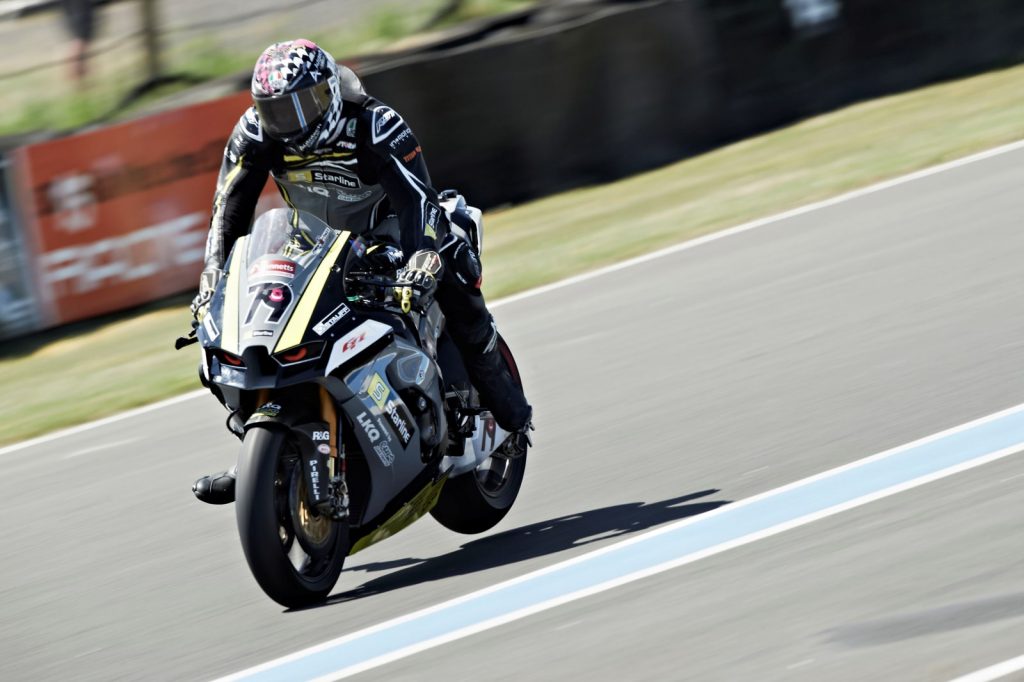 STARLINE Racing Kawasaki Superbike
We recently tested at Knockhill a track that Storm and the Team get on well with, we had a few problem areas to work on but the overall results left us looking forward to the BSB event.
Friday's free practice was everything the test work had suggested finishing the first session in 5th place and the second session in 12th after taking some track limits penalties but moving straight to Q2 on Saturday
Qualifying: –
Knockhill is a short track so its impractical for BSB to run Superpole. We were competitive throughout the session taking 8th overall just a tenth from pole position and fastest Kawasaki!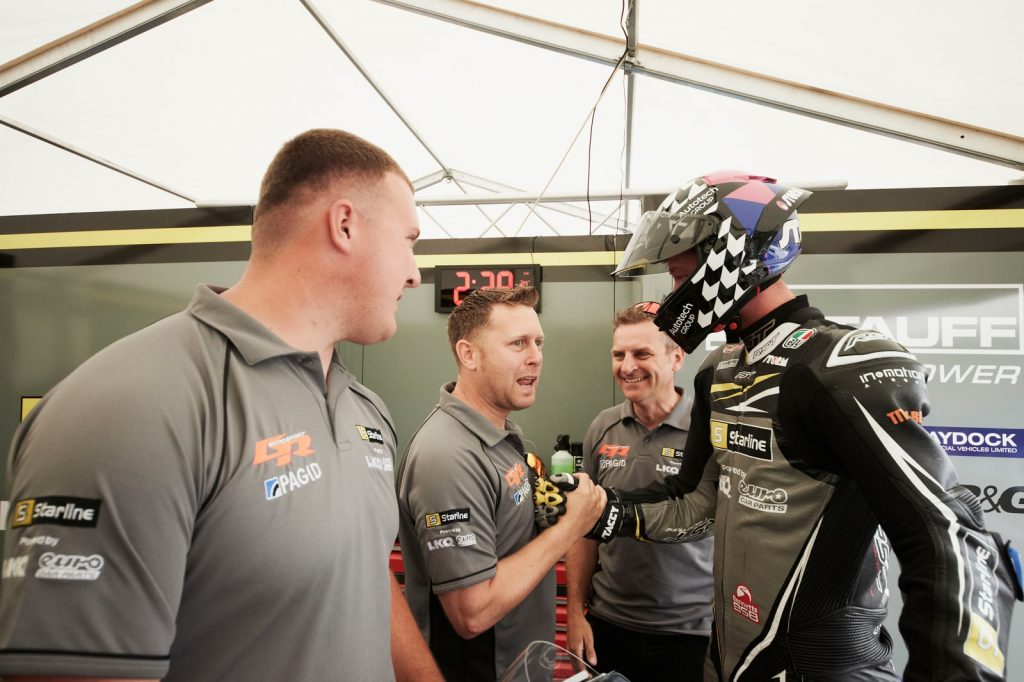 Racing: –
Race 1, A great start for the sprint race but the pace was extreme making it very difficult to pass but we held our position in a battle for 5th to take 8th just a few seconds off the winner and first Kawasaki our best result of the season so far. Result 8th
Race 2, Overnight Storm had some thoughts about where he could try to make some passes and after studying the data with the Team and trying some things in warm up he was confident he could finish higher in the results in Sundays races. Storm made a great start for the 30 lap race and went to work having a great battle again for 5th place this time taking 7th again our best result of the Season – Result 7th
Race 3, Storm started 9th on the grid and was quickly looking to move forward and looking to 5th place when we suffered a mechanical problem sadly side-lining him from the race – Result DNF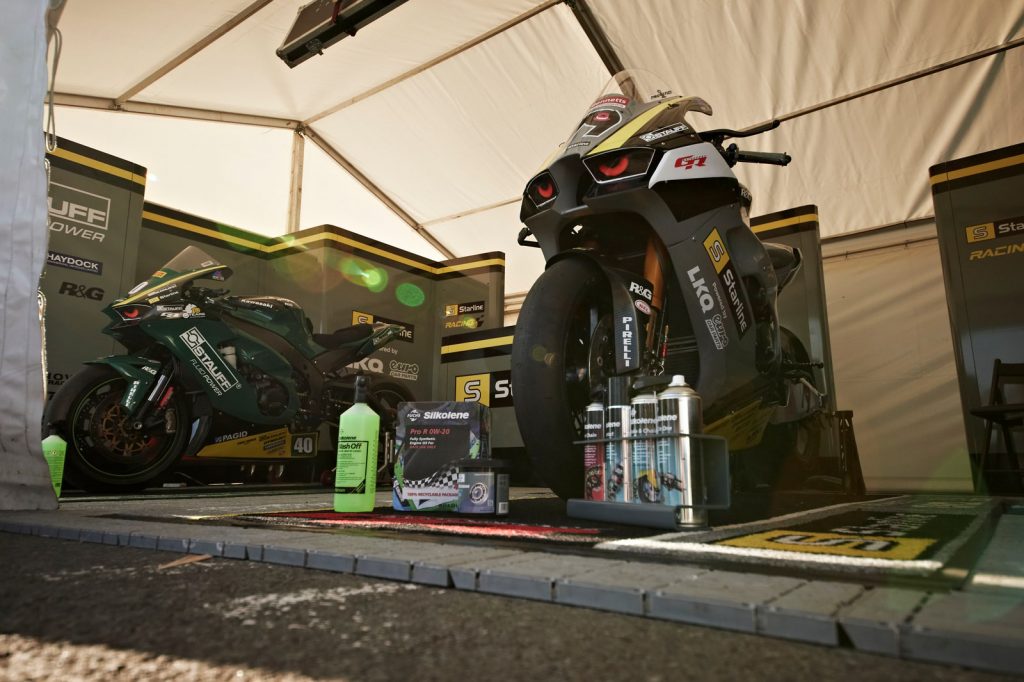 Storm Stacey said: "My GR Motosport team did a mega job for me all weekend for which I thank them – but there's no I in team and we are working well together let keep the ball rolling
I have to thank all the fans at the hairpin I've never had so many goose bumps and hairs standing up on my neck the clapping and smiles was second to none – true top sport fans THANK YOU
Massive thanks to all my sponsors glad i can make you proud to help out
Can't wait to see you all at Snetterton
Championship Position 14th – 41 Points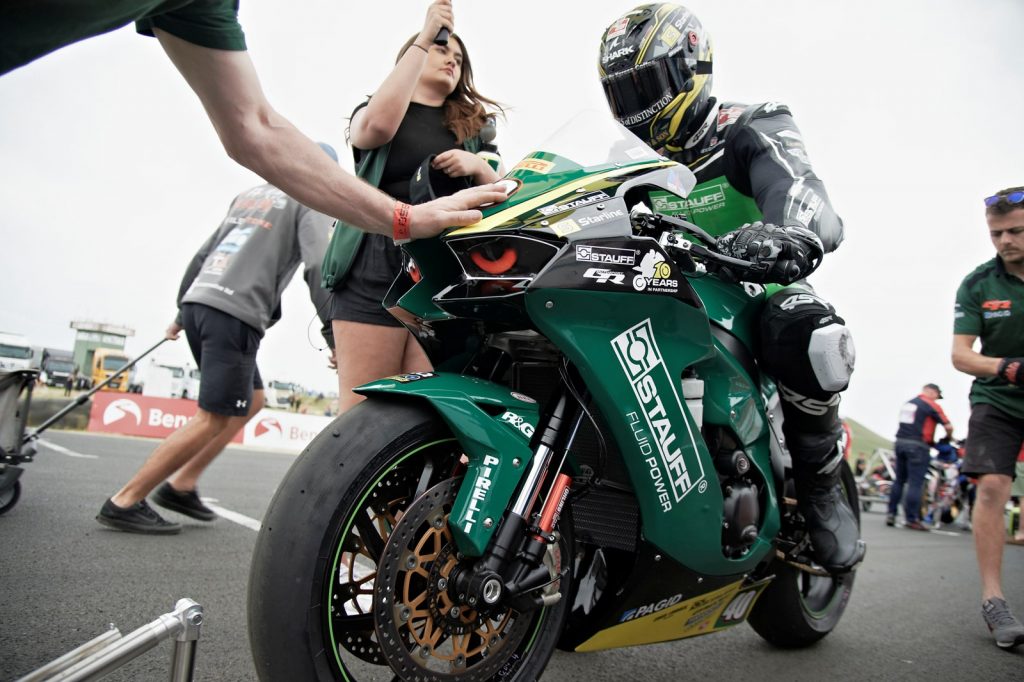 STAUFF Fluid Power Kawasaki Superstock 1000
The Team pulled out all the stops with the help of Rob to isolate the continuing problem we have been having with the electronics on Joes bike. Having got to the bottom of this issue we needed joe to get back to his best and take two strong points scoring races to kick start the rest of our season.
Qualifying: –
Joe is still a little off his best but put together a great qualifying to take 7th place just a couple of tenths off pole position 
Racing: –
Race 1
Joe did not manage to make the best of starts and got pushed back, He pulled himself together and started a comeback to finish in the points in 11th with a grid of 12th for race two – Result 11th
Race 2
Joe got a better start in the feature race for a battle for 10th and starting to get the better out of his ZX10 now without the Motec problems. He brought her home in 10th which is not where we want to be but give a good building point heading for Snetterton next week – Result 10th
Joe Francis said: "It really is hard at the moment with the continued ignition problems we have had now gone, I have to start looking at and getting used really pushing again. We have a challenge to move forward in the championship going to Snetterton one of the fastest Tracks in the country. Lucci and I had a few days break in the Isle of Man and I feel fresh and ready to go
Championship Position 11th – 39 points